I haven't been posting frequently because birthday party and engagement party and birthday party and wedding planning and life. I don't believe in excuses, but I just haven't had the time to edit photos and put an entire party post together. I have lists and lists of what I need to post though. Until then, I have a very HOOSIER event to share with you – Vintage Indiana 2015: a festival of wine, food, and fun!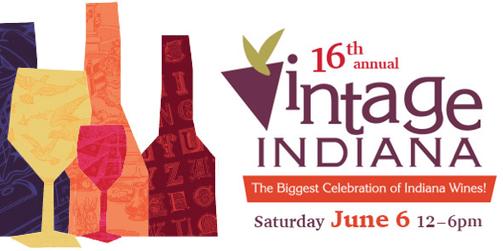 Did you know that Indiana has 80 wineries with the 81st opening later this year? There really is more than corn in Indiana! Indiana wineries produce more than 1.25 million gallons of wine each year. Vintage Indiana is the state's largest wine festival featuring locally crafted wines. This year 30 of Indiana wineries will offer samples of over 300 wines to festival attendees.
That is a lot of vino – for just the cost of a single bottle: tickets are $25 in advance online or at Marsh Supermarkets, or $35 at the gate. Designated Driver tickets are only $10 and include unlimited soda and water. There are also 1000 special Early Admission tickets for $50 each which provides early admission by 1 hour, a special wine glass, and more. No one under 21 will be granted admission, so book your babysitter now for June 6th.
What: Vintage Indiana 2015
When: June 6, 2015, noon-6p
Where: Military Park, downtown Indianapolis
Cost: $10-50
There will also be performances by Zanna-Do, Living Proof, and Jennie DeVoe. Vintage Indiana is brought to you by Indiana Wines, Marsh Supermarkets, WZPL 107.9, WTHR and Indiana's Turkey Farmers. This post is brought to you by Indiana Family of Farmers who provided me with all the information and two admission tickets. See you there!
Check out Tips from a Vintage Indiana veteran at Mom For Less.
Find out more on Social Media